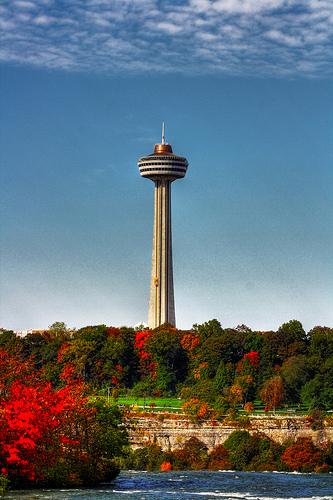 To celebrate the Skylon Tower's 50th anniversary, Niagara residents will be able to take a free ride to the top until November 20, 2015.
To take the free elevator ride, residents will need to show a piece of photo identification.
"Over the last 50 years, the community has supported us and been there for us every step of the way," said general manager George Yerich Jr. "This is our way of simply showing our appreciation and gratitude.
"It's true that there is always someone in the Niagara region that has either worked at the Skylon Tower or known someone who has worked there/been influenced by the tower. In celebration of our anniversary, we are asking Niagara region residents to reacquaint themselves with the Skylon Tower, the city and the view."
On November 25 at 5 p.m., Niagara Falls Mayor, Jim Diodati, is scheduled to attend a ceremony honouring the tower and present a commemorative plaque.